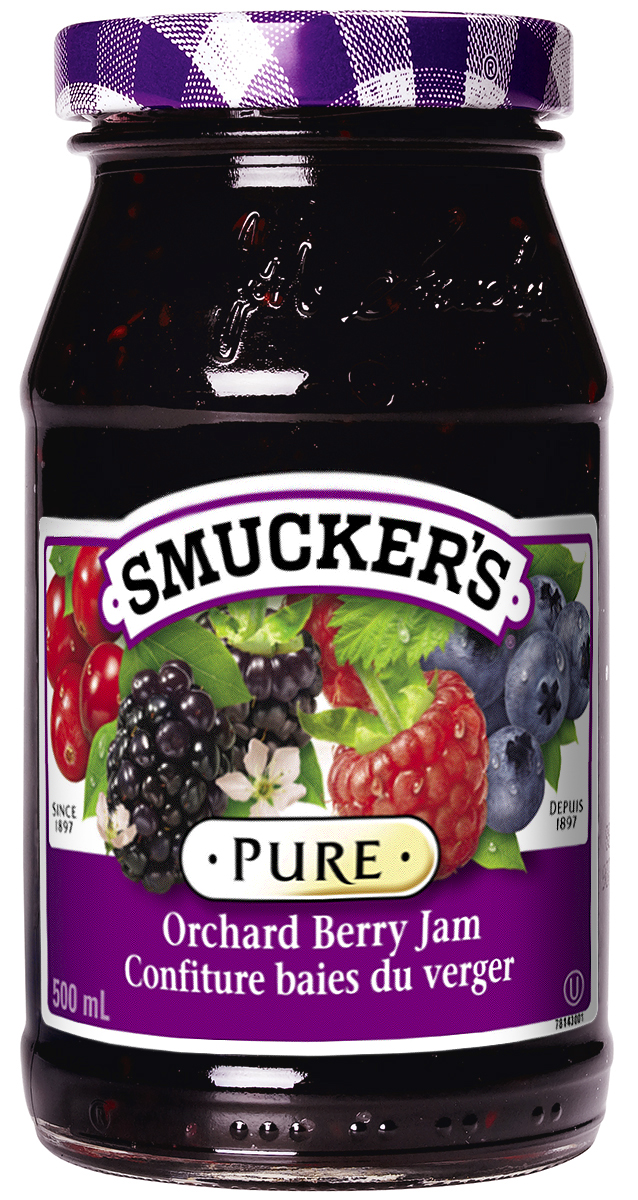 Available Size(s): 500 mL
Smucker's® Pure Orchard Berry Jam
19 Rating(s)
Containing blueberries, boysenberries, raspberries and cranberries – our Orchard Berry Jam is a combination of the best flavours! Made from the finest fruit, Smucker's Pure Jams are packed with real-fruit goodness. With no preservatives and no colour added, this jam makes a sweet treat any time of the day.
Nutrition Facts
Amount Per Serving
Calories 50
Fat 0 g
Sodium 1 mg
Carbohydrate 13 g
Sugars 10 g
Protein 0 g
INGREDIENTS
FRUITS (BLUEBERRIES – BOYSENBERRIES – RASPBERRIES – CRANBERRIES), SUGAR, GLUCOSE, PECTIN, CITRIC ACID
Product formulation and packaging may change. For the most current information regarding a particular product, please refer to the product package.
Puddleman

2 Rating(s):

Freezing: not recommended

Ingredients

1 tbsp each (15 mL) Smucker's® Pure Orchard Berry Jam and cream cheese, softened
1 mini hamburger bun (23 g)
6-8 chow mein noodles
2 blueberries
1 tbsp (15 mL) Smucker's® Pure Strawberry Jam
1 square (1 ½"/ 4 cm) cheddar cheese

View Recipe

Wild Creature Sandwiches

6 Rating(s):

Freezing: not recommended

Ingredients

For each sandwich, you will need:
2 slices of bread
1/8 - 1/4 banana, mashed
1 tbsp (15mL) peanut butter
1 tbsp (15mL) Smucker's® Pure Orchard Berry Jam

View Recipe

Cherries

Greek Yogurt

Creamy Greek yogurt complements the fruitful burst of cherries and berries in these frozen treats. Combine chopped cherries with Smucker's Pure Orchard Berry Jam and Greek yogurt, and freeze into ice-pop molds.

View Pairing