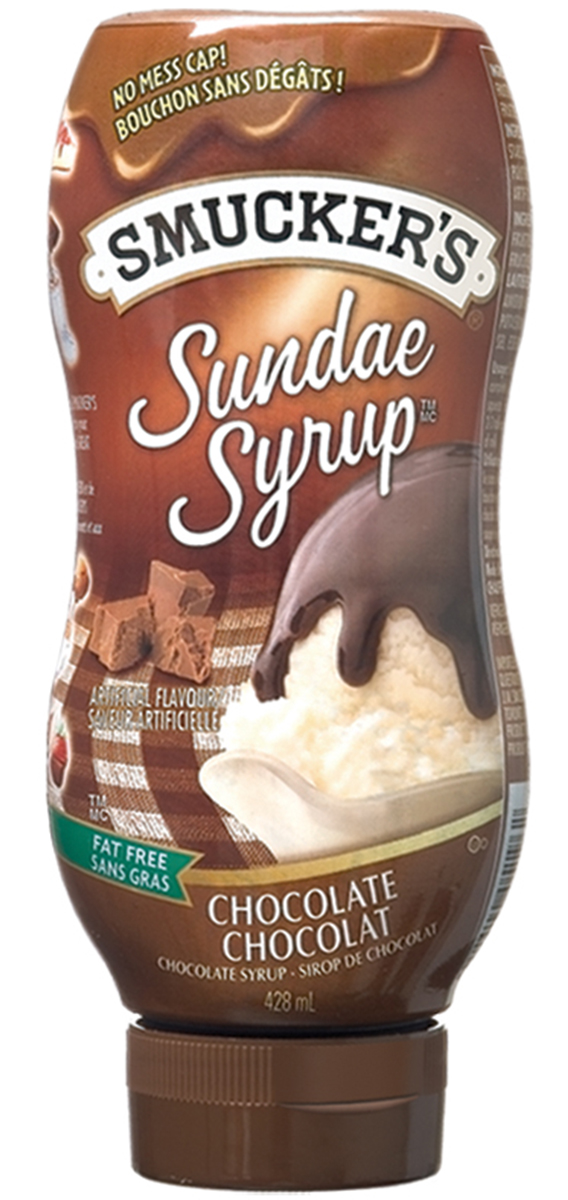 Available Size(s): 428 mL
Smucker's® Sundae Syrup™ Chocolate Flavoured Syrup
15 Rating(s)
Delicious alone or with all the fixings, enjoy this classic Chocolate Flavoured Syrup. Its smooth, creamy taste has just the right amount of richness.
Nutrition Facts
Serving Size 2 tbsp (30 mL)
Amount Per Serving
Calories 100
Fat 0.5 g
Saturated 0.3 g
Trans 0 g
Cholesterol 0 mg
Sodium 20 mg
Carbohydrate 25 g
Fibre 1 g
Sugars 20 g
Protein 1 g
Vitamin A 0
Vitamin C 0
Calcium 0
Iron 8
INGREDIENTS
SUGAR/GLUCOSE-FRUCTOSE, WATER, COCOA, FRUCTOSE, SKIM MILK POWDER, MODIFIED CORN STARCH, SALT, POTASSIUM SORBATE, POLYSORBATE 60, ARTIFICIAL FLAVOUR
Product formulation and packaging may change. For the most current information regarding a particular product, please refer to the product package.
Cookies n Crème Extreme Wafflewich

0 Rating(s):

Yield: 1 Cookies n Crème Extreme Wafflewich

Ingredients

2 Eggo© Original Waffles
3 scoops Breyers® Vanilla Caramel Gelato Indulgences™
¼ cup (50 mL) brownies, crumbled
2 tbsp (30 mL) Smuckers® Magic Shell® Chocolate
2 tbsp (30 mL) Smuckers® Sundae Syrup™ Chocolate Flavoured Syrup
½ cup (125 mL ) HERSHEY'S® CHIPITS® TOPPERS™ Cookies n Crème

View Recipe

'Kitchen Sink' Milkshake Float

0 Rating(s):

Ingredients

Milkshake:
2 scoops vanilla ice cream or frozen yogurt
2 scoops milk
1 scoop Smucker's® Sundae SyrupTM Caramel Flavoured Syrup

Toppings:
1 scoop vanilla ice cream or frozen yogurt
Smucker's Sundae Syrup Chocolate Flavoured Syrup
Smucker's Sundae Syrup Caramel Flavoured Syrup
Kitchen sink: candy coated chocolate candy, chopped chocolate bars, jelly beans, gummies, nuts, etc.

View Recipe

Ice Cream Cone Cake

4 Rating(s):

Freezing Time: 20 minutes

Ingredients

14 mini (3.5 g each) vanilla wafer cookies, coarsely chopped
1 bottle (205 g) Smucker's® Magic Shell® Chocolate Flavoured Topping
4 (4.5 g each) ice cream cones, halved vertically
2 cups (500 mL) strawberry or cherry ice cream, softened
3 tbsp (45 mL) Smucker's® Sundae Syrup™ Strawberry Flavoured Syrup
1 ½ cups (375 mL) chocolate ice cream, softened
Whipped cream, sprinkles and Smucker's Sundae Syrup Chocolate Flavoured Syrup for garnish

View Recipe