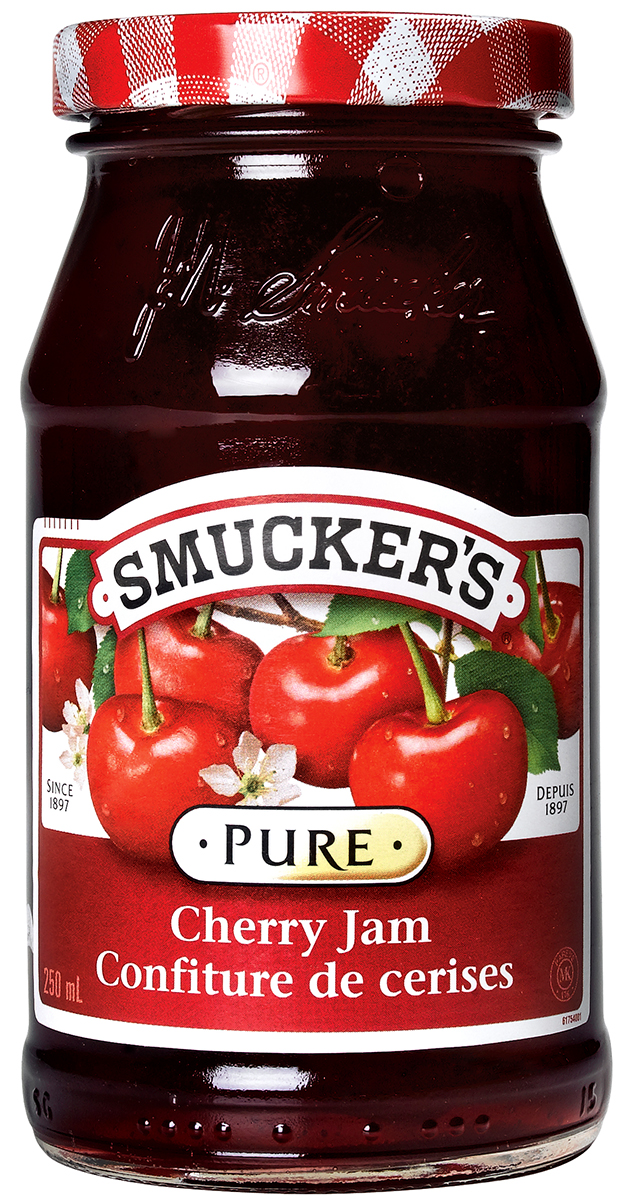 Available Size(s): 250 mL
Smucker's® Pure Cherry Jam
44 Rating(s)
We call it summer's main event — the moment in the orchards when the cherries reach their maximum sweetness and tartness. Experience the delightful cherry taste in every spoonful of our Cherry Jam. Serves as delicious filler for cupcakes, a tasty topping for waffles or a base for fruit sauces.
Nutrition Facts
Amount Per Serving
Calories 50
Fat 0 g
Sodium 1 mg
Carbohydrate 13 g
Sugars 11 g
Protein 0.1 g
INGREDIENTS
CHERRIES (MAY CONTAIN PITS), SUGAR, GLUCOSE, PECTIN, CITRIC ACID
Product formulation and packaging may change. For the most current information regarding a particular product, please refer to the product package.
Dreamy Cherry Bars

52 Rating(s):

Ingredients

Base:
1 1/3 cups (325mL) Robin Hood® Original All Purpose Flour
1/3 cup (75mL) sugar
1/2 tsp (2mL) baking powder
1/2 cup (125mL) butter
1 egg, beaten
1 jar (250mL) Smucker's Pure Cherry Jam
Topping:
1 cup (250mL) brown sugar
3/4 cup (175mL) chopped toasted walnuts
3/4 cup (175mL) toasted coconut
2 tbsp (30mL) Robin Hood Original All Purpose Flour
1 tbsp (15mL) lemon juice
1 tsp (5mL) baking powder
2 eggs, beaten

View Recipe

Cherry Cheese Bagel

5 Rating(s):

Freezing: not recommended

Ingredients

1 whole wheat bagel, sliced
2 tbsp (30mL) Smucker's Pure Cherry Jam
2 tbsp (30mL) shredded sharp cheddar cheese
½ apple, thinly sliced
Cinnamon, optional

View Recipe

Balsamic Vinegar

Camembert Cheese

Chopped Hazelnuts

Camembert's rustic flavour pairs beautifully with tart cherries, creating a unique, creamy appetizer spread. To prepare: Cut a wheel of Camembert in half horizontally, spread Smucker's Pure Cherry Jam on each half, and reassemble. Drizzle with balsamic reduction and sprinkle with sliced hazelnuts for an added crunch. Serve with crackers or a sliced baguette.

View Pairing