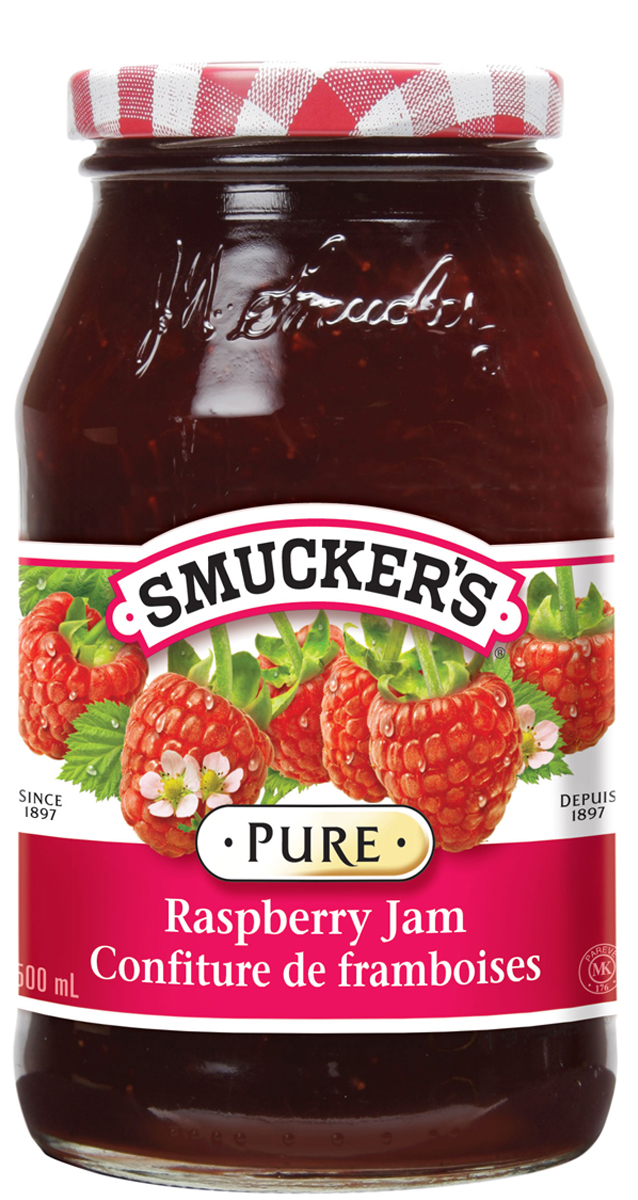 Available Size(s): 250 mL, 500 mL, 1L
Smucker's® Pure Raspberry Jam
42 Rating(s)
This classic summer jam packs a punch of red raspberry flavour. With just the right balance of fruit and sweetness, we use only the ripest berries and let the natural flavours intensify in the making. With no preservatives and no colour added, this jam makes a sweet treat any time of the day and serves as a great base for salad dressings or other foods.
Nutrition Facts
Amount Per Serving
Calories 50
Fat 0 g
Sodium 1 mg
Carbohydrate 13 g
Sugars 10 g
Protein 0.1 g
INGREDIENTS
RED RASPBERRIES, SUGAR, GLUCOSE, PECTIN, CITRIC ACID
Product formulation and packaging may change. For the most current information regarding a particular product, please refer to the product package.
Empire Cookies

0 Rating(s):

Ingredients

Cookie Dough
2 cups (500 mL) butter, softened
1 cup (250 mL) sugar
3 ¼ cups (800 mL) Robin Hood® Original All Purpose Flour
½ cup (125 mL) cornstarch
Filling
½ cup (125 mL) Smucker's® Pure Raspberry Jam
Topping
1 cup (250 mL) icing sugar
3 tbsp (45 mL) milk
1 tbsp (15 mL) butter
21 Maraschino cherries, cut in half

View Recipe

PB & J Mini Pancakes

0 Rating(s):

Ingredients

6 mini pancakes, prepared
2 tbsp (30 ml) Adams®100% Natural Creamy Peanut Butter
2 tbsp (30 ml) Smucker's® Pure Raspberry Jam

View Recipe

Raspberry & Cheddar Omelettete

Give the three-egg omelet a raspberry surprise. Make as you would any omelet, but once the eggs begin to set, tuck in Smucker's® Pure Raspberry Jam and top with shredded white cheddar. Fold. The tart raspberry will blend with the melt-in-your-mouth sharpness of cheddar to create a delicious, melted filling. Sprinkle with basil.

View Pairing