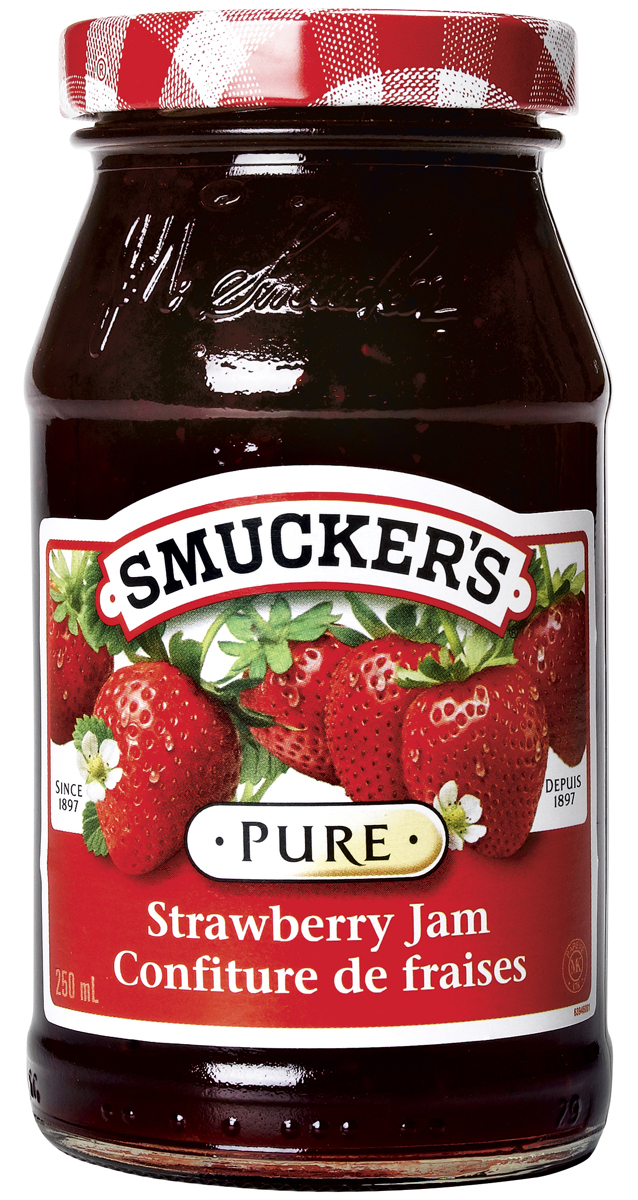 Available Size(s): 250 mL, 500 mL, 1L
Smucker's® Pure Strawberry Jam
62 Rating(s)
Families have loved our Strawberry Jam for more than 100 years, and for good reason. With just the right balance of fruit and sweetness, we use ripe berries and let the natural flavours intensify in the making. Add Smucker's Strawberry Jam to balsamic vinaigrettes, pair with dark chocolate, or go classic and make a tasty PB & J.
Nutrition Facts
Amount Per Serving
Calories 50
Fat 0 g
Sodium 1 mg
Carbohydrate 13 g
Sugars 11 g
Protein 0.1 g
INGREDIENTS
STRAWBERRIES, SUGAR, GLUCOSE, GLUCOSE-FRUCTOSE, PECTIN, CITRIC ACID
Product formulation and packaging may change. For the most current information regarding a particular product, please refer to the product package.
Strawberry Banana Yogurt Parfaits

0 Rating(s):

Ingredients

1/4 cup (50 mL) Smucker's® Pure Strawberry Jam
1 cup (250 mL) vanilla Greek yogurt
1/3 cup (75 mL) prepared granola (any type, with nuts, no raisins)
1 medium banana, sliced
1/2 cup (125 mL) chopped strawberries, plus additional slices for garnish

View Recipe

Baked Egg Cups with Toast

6 Rating(s):

Ingredients

12 slices deli style ham
1 ½ cups (375 mL) Egg Creations™ Original Liquid Eggs, well shaken
3 tbsp (45 mL) low fat shredded cheese
2 oz (60 g) finely chopped spinach
6 slices of toast, cut into triangles
Smucker's® Pure Strawberry Jam

View Recipe

Adams® Natural Creamy Peanut Butter

Red Apples

Oats

Mini Chocolate Chips

Here's a clever take on the original Peant Butter & Jam sandwich. Core a red apple and slice crosswise into rounds. Top slices with Smucker's® Pure Strawberry Jam and Adams® Creamy Peanut Butter. Sprinkle evenly with oats and chocolate chips for a crunchy, chewy, and kid-friendly bonus!

View Pairing