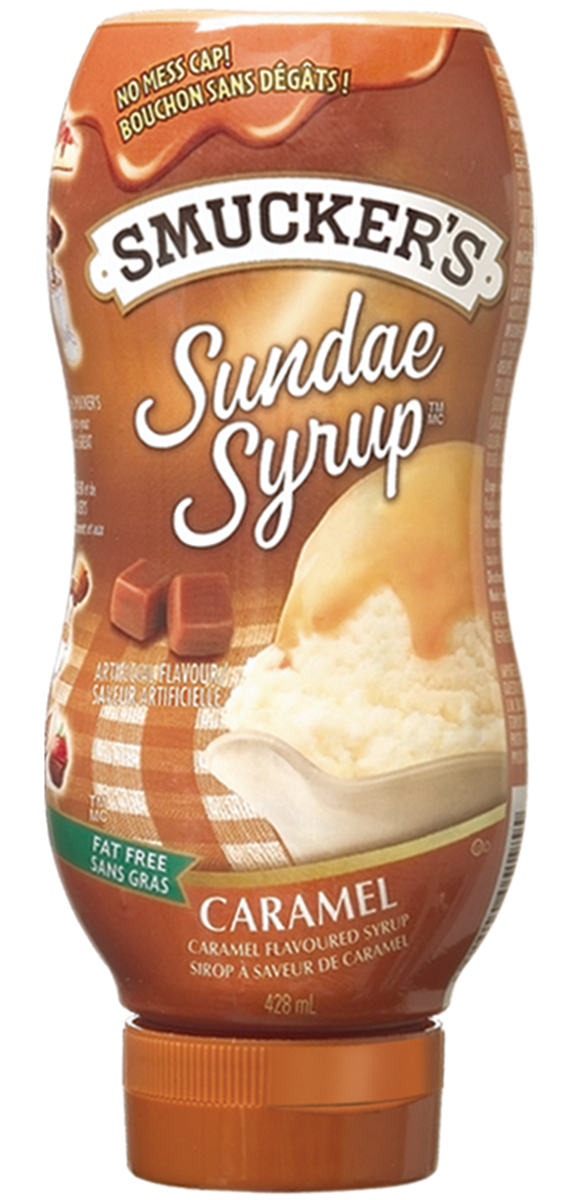 Available Size(s): 428 mL
Smucker's® Sundae Syrup™ Caramel Flavoured Syrup
17 Rating(s)
Our Caramel Flavoured Syrup is smooth and rich — just like a caramel candy. Try it mixed with our Chocolate Flavoured Syrup for an extra special treat.
Nutrition Facts
Serving Size 2 tbsp (30 mL)
Amount Per Serving
Calories 110
Fat 0.1 g
Saturated 0 g
Trans 0 g
Cholesterol 0 mg
Sodium 95 mg
Carbohydrate 27 g
Fibre 0 g
Sugars 15 g
Protein 1 g
Vitamin A 0
Vitamin C 0
Calcium 2
Iron 0
INGREDIENTS
GLUCOSE, GLUCOSE-FRUCTOSE, SKIM MILK POWDER, FRUCTOSE, MODIFIED STARCH, MODIFIED MILK INGREDIENTS, SALT, NATURAL FLAVOUR (FROM EGGS), POTASSIUM SORBATE, POLYSORBATE 60, SODIUM CITRATE, SODIUM PHOSPHATE, CARAMEL, ARTIFICIAL FLAVOUR, COLOURS (SUNSET YELLOW AND ALLURA RED)
Product formulation and packaging may change. For the most current information regarding a particular product, please refer to the product package.
Pumpkin Pie Tea Latte

0 Rating(s):

Freezing: Not recommended

Ingredients

3/4 cup (175 mL) brewed hot chai tea
3/4 cup (175 mL) Carnation® Regular Evaporated Milk, 2% Evaporated Partly Skimmed Milk, or Evaporated Skim Milk
2 tbsp (30 mL) pumpkin puree (not filling)
1 tbsp or more to taste (15 mL ) Smucker's® Sundae Syrup TM Caramel Flavoured Syrup

View Recipe

Sweet & Salty Caramel Crunch Sundae

1 Rating(s):

Ingredients

3 tbsp (45 mL) Smucker's® Sundae SyrupTM Caramel Flavoured Syrup, divided
Sea salt or kosher salt to taste
½ cup (125 mL) vanilla ice cream or frozen yogurt
⅓ cup (75 mL) caramel popcorn

View Recipe

'Kitchen Sink' Milkshake Float

0 Rating(s):

Ingredients

Milkshake:
2 scoops vanilla ice cream or frozen yogurt
2 scoops milk
1 scoop Smucker's® Sundae SyrupTM Caramel Flavoured Syrup

Toppings:
1 scoop vanilla ice cream or frozen yogurt
Smucker's Sundae Syrup Chocolate Flavoured Syrup
Smucker's Sundae Syrup Caramel Flavoured Syrup
Kitchen sink: candy coated chocolate candy, chopped chocolate bars, jelly beans, gummies, nuts, etc.

View Recipe