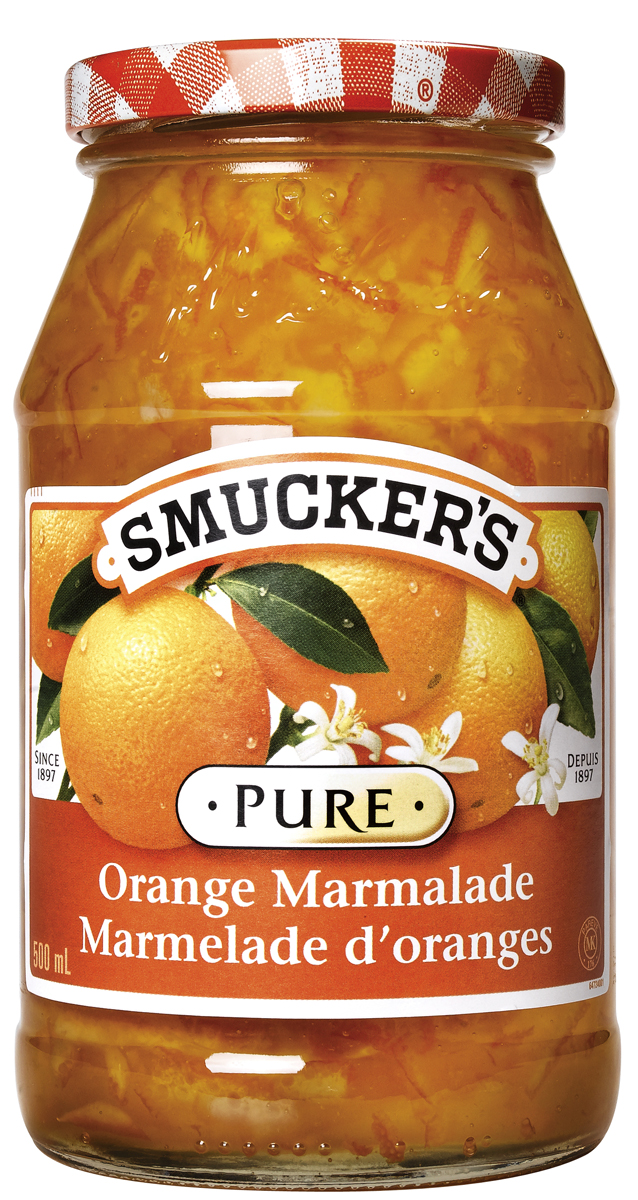 Available Size(s): 250 mL, 500 mL
Smucker's® Pure Orange Marmalade
10 Rating(s)
Smucker's Pure Orange Marmalade delivers a sweet citrus-packed flavour that enhances dishes from breakfast to dinner. Spread on a hot buttered biscuit for the perfect start to your morning. Or, use to make a tangy glaze for chicken or pork.
Nutrition Facts
Amount Per Serving
Calories 50
Fat 0 g
Sodium 1 mg
Carbohydrate 13 g
Sugars 8 g
Protein 0 g
INGREDIENTS
SUGAR/GLUCOSE-FRUCTOSE, ORANGE PEELS, ORANGE JUICE, PECTIN, CITRIC ACID
Product formulation and packaging may change. For the most current information regarding a particular product, please refer to the product package.
Orange Burst Smoothie

1 Rating(s):

Ingredients

1 can (354 mL) Carnation® Regular, 2% or Fat Free Evaporated Milk, chilled
¼ cup (60 mL) Smucker's® Pure Marmalade
3 tbsp (45 mL) orange juice, optional
½ tsp (2 mL) orange zest, or to taste
6-9 ice cubes

View Recipe

Marmalade Cornmeal Pancakes with Orange Butter Syrup

21 Rating(s):

Yield: 10-12 pancakes, ½ cup (125mL) syrup

Freezing: excellent, pancakes only

Ingredients

Pancakes
1 cup (250mL) buttermilk
¼ cup (50mL) butter, melted
2 eggs
½ cup (125mL) Smucker's Pure Orange Marmalade
1 1/4 cups (300mL) cornmeal
½ cup (125mL) Robin Hood® Original All Purpose Flour
¼ cup (50mL) sugar
½ tsp (2mL) baking powder
½ tsp (2mL) baking soda
½ tsp (2mL) salt
Butter for frying
Orange Butter Syrup
¼ cup (50mL) Smucker's Pure Orange Marmalade
¼ cup (50mL) butter
2 tbsp (30mL) orange juice
1 tbsp (15mL) orange zest

View Recipe

Low-Fat Plain Greek Yogurt

Hot Sauce

Bring some zing to your dinner table! Mix tangy Greek yogurt, hot sauce, and Smucker's® Pure Orange Marmalade for a uniquely sweet and spicy topping. Slice open a baked sweet potato and dress it with this Sweet Hot Yogurt Sauce.

View Pairing