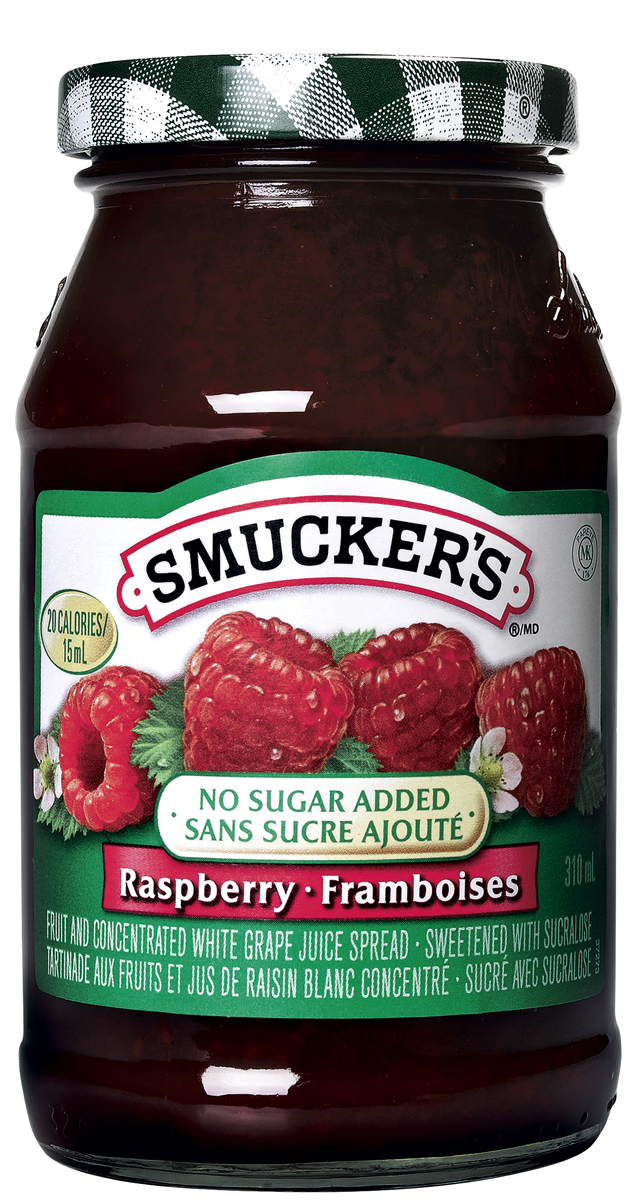 Available Size(s): 310 mL
Smucker's® No Sugar Added Raspberry Fruit and Concentrated White Grape Juice Spread
69 Rating(s)
Ripe red raspberries, picked at the peak of freshness and sweetened with half the sugar, taste just as delicious in our Smucker's No Sugar Added Raspberry and Concentrated White Grape Juice Spread. Ithas the great, sweet taste you crave. Sweetened with concentrated white grape juice and sucralose, it gives you the wholesome taste you love with only 5.0 g of sugar per serving*. It makes the perfect spread for a gourmet grilled cheese sandwich and is great spooned into a bowl of yogurt.

* Sugar content of some flavours may vary slightly.
Nutrition Facts
Amount Per Serving
Calories 20
Fat 0 g
Sodium 8 mg
Carbohydrate 5 g
Sugars 5 g
Protein 0.2 g
INGREDIENTS
RASPBERRIES, CONCENTRATED WHITE GRAPE JUICE, WATER, PECTIN, GUAR GUM, CITRIC ACID, POTASSIUM SORBATE, SODIUM CITRATE, SUCRALOSE, CALCIUM CHLORIDE, COLOUR, 8mg OF SUCRALOSE PER 15 mL SERVING
Product formulation and packaging may change. For the most current information regarding a particular product, please refer to the product package.
Toasted Oats & Cottage Cheese Parfait

4 Rating(s):

Yield: 2 cups (500 mL) Toasted Oats ; 1 serving (375 mL) Parfait

Freezing: not recommended

Ingredients

TOASTED OATS
2 cups (500 mL) Robin Hood® or Old Mill® Minute Oats
1/2 tsp (2 mL) cinnamon
1 tbsp (15 mL) canola oil
PARFAIT
1 cup (250 mL) cottage cheese
2 tbsp (30 mL) orange juice
3 tbsp (45 mL) prepared toasted oats, plus additional for garnish
3 tbsp (45 mL) Smucker's® No Sugar Added Raspberry Fruit and Concentrated White Grape Juice Spread

View Recipe

Baked Pears with Goat Cheese and Raspberry Drizzle

3 Rating(s):

Baking Time: 30-45 minutes

Ingredients

4 firm-ripe pears, halved (Bartlett, Anjou or Bosc)
1 tbsp (15 mL) lemon juice
1/2 cup (125 mL) orange juice
2 tbsp (30 mL) sugar
1/4 cup (50 mL) Smucker's® No Sugar Added Raspberry Fruit and Concentrated White Grape Juice Spread
1/4 tsp (1 mL) coarsely ground black pepper
2 oz (60 g) goat cheese

View Recipe

Fruit Tarts

2 Rating(s):

Ingredients

8 oz (250 g) cream cheese, softened
1/4 cup (50 mL) Smucker's® No Sugar Added Apricot Fruit and Concentrated White Grape Juice Spread
1 tsp (5 mL) vanilla extract
3/4 cup (175 mL) prepared frozen whipped topping, thawed
18 baked tart shells (3"/7.5 cm)
Smucker's No Sugar Added Fruit and White Grape Juice Concentrate Spreads (any flavour)

View Recipe