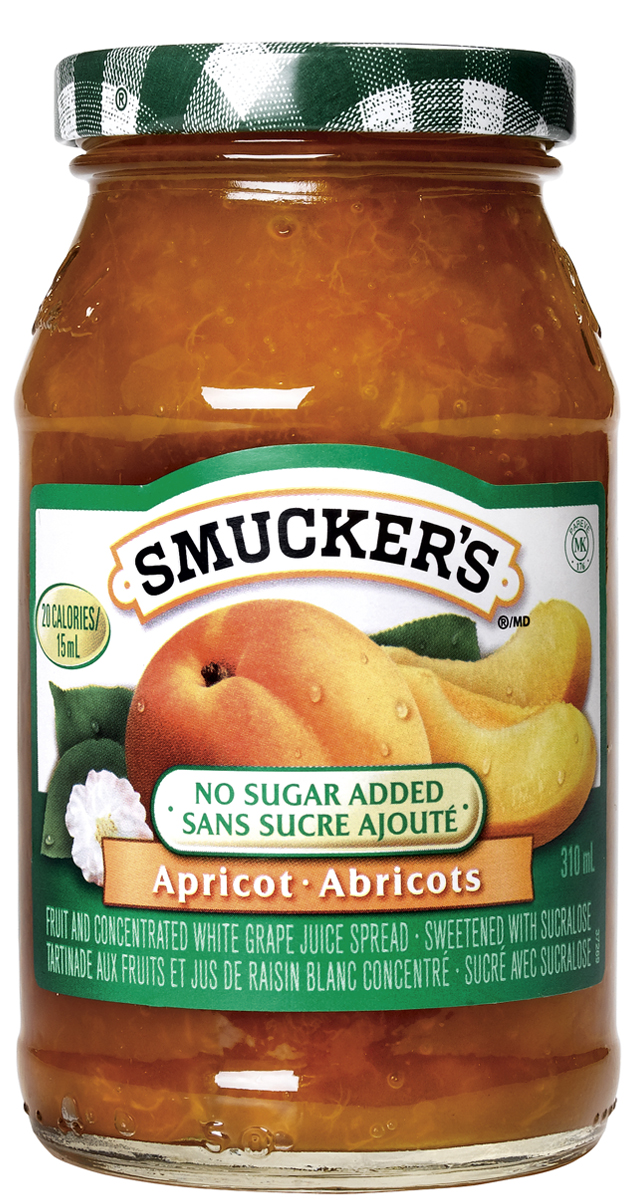 Available Size(s): 310 mL
Smucker's® No Sugar Added Apricot Fruit and Concentrated White Grape Juice Spread
27 Rating(s)
With an early ripening season, apricots are often considered a treat. But with our Smucker's No Sugar Added Apricot and Concentrated White Grape Juice Spread, you can enjoy the sun-ripened freshness all year round. Sweetened with concentrated white grape juice and sucralose, it gives you the wholesome taste you love with only 5.0 g of sugar per serving*. Use to create a glaze for toasted almonds, or spoon into your morning oatmeal.
* Sugar content of some flavours may vary slightly.
Nutrition Facts
Amount Per Serving
Calories 20
Fat 0 g
Sodium 5 mg
Carbohydrate 5 g
Sugars 5 g
Protein 0.1 g
Vitamin C 8
INGREDIENTS
APRICOTS (ASCORBIC ACID), CONCENTRATED WHITE GRAPE JUICE, WATER, PECTIN, GUAR GUM, CITRIC ACID, POTASSIUM SORBATE, SUCRALOSE, CALCIUM CHLORIDE, COLOUR, 8mg OF SUCRALOSE PER 15 mL SERVING
Product formulation and packaging may change. For the most current information regarding a particular product, please refer to the product package.
Sweet and Sour Glazed Chicken Breasts

47 Rating(s):

Freezing: Not recommended

Ingredients

1 cup (250mL) Smucker's® No Sugar Added Apricot Fruit and White Concentrated Grape Juice Spread
2 tbsp (30mL) soy sauce
2 tsp (10mL) Worcestershire sauce
¼ cup (50mL) rice vinegar
2 tsp (10mL) grated fresh ginger or 1 tsp (5mL) dried
4 boneless, skinless chicken breasts, pounded thin.
Salt and pepper to taste

View Recipe

Apricot Lemon Sauce

2 Rating(s):

Ingredients

2/3 cup (150 mL) Smucker's® No Sugar Added Apricot Fruit and Concentrated White Grape Juice Spread
1 tbsp (15 mL) lemon juice
1 tsp (5 mL) prepared mustard
1/2 tsp (2 mL) grated lemon peel
pinch salt

View Recipe

Apricot Broiled Grapefruit

Grapefruit

Turn breakfast or snack time into a treat with just two simple ingredients: grapefruit and Smucker's® No Sugar Added Apricot Fruit Spread. Tart grapefruit gains a sweeter richness when paired with apricot fruit spread. To make: Brush apricot spread over cut grapefruit and broil until caramelized. Top with cinnamon for an indulgence you can feel good about.

View Pairing