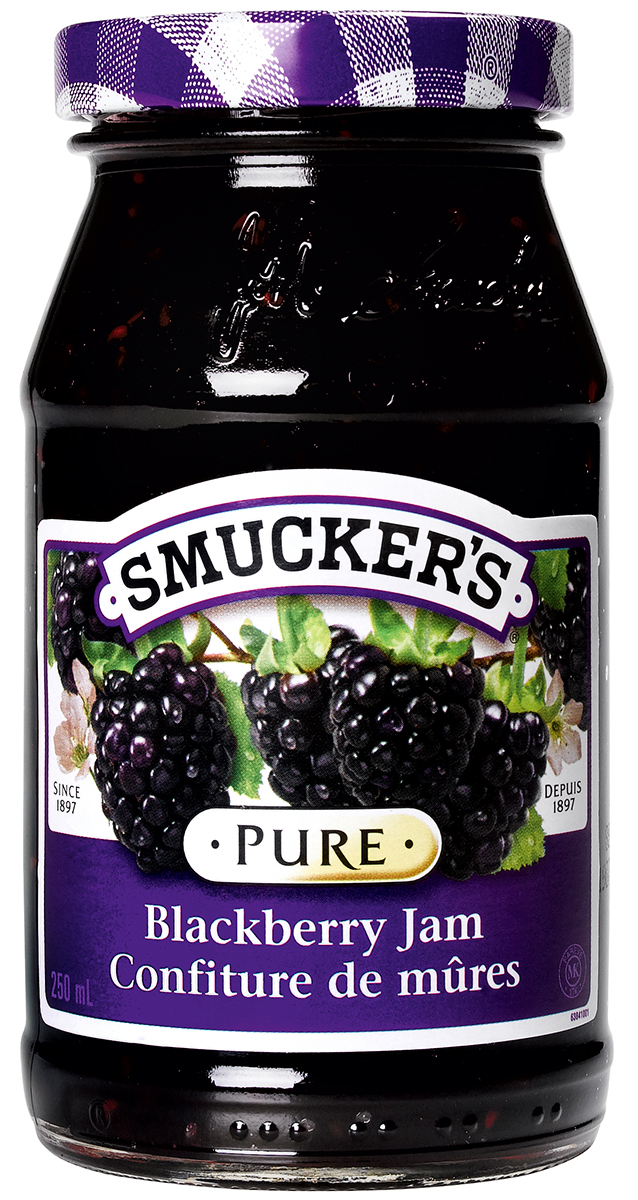 Available Size(s): 250 mL
Smucker's® Pure Blackberry Jam
50 Rating(s)
The complex, tangy flavour of our Blackberry Jam captures the warm, earthy days of late summer. Picked plump and juicy, our blackberries cook into a rich jam with an ideal spoonable texture. Made from high-quality fruit, Smucker's Pure Jams are full-flavoured goodness. Spread on a scone, add to oatmeal or use as a sauté base for chicken.
Nutrition Facts
Amount Per Serving
Calories 50
Fat 0 g
Sodium 1 mg
Carbohydrate 13 g
Sugars 9 g
Protein 0.1 g
INGREDIENTS
BLACKBERRIES, SUGAR, GLUCOSE, CITRIC ACID, PECTIN
Product formulation and packaging may change. For the most current information regarding a particular product, please refer to the product package.
Orange, Berry & Oat Breakfast Muffins

1 Rating(s):

Ingredients

3/4 cup (175 mL) Robin Hood® Original All Purpose Flour
3/4 cup (175 mL) Robin Hood Whole Wheat Flour
1 cup (250 mL) Robin Hood or Old Mill® Quick Oats
2/3 cup (150 mL) granulated sugar
2 tsp (10 mL) baking powder
1/2 tsp (2 mL) baking soda
1/2 tsp (2 mL) salt
3/4 cup (175 mL) Oasis® Premium Orange Juice
1/3 cup (75 mL) Egg Creations™ Original Liquid Eggs, well shaken
1/3 cup (75 mL) Crisco® Canola Oil
6 tbsp (90 mL) Smucker's® Pure Blackberry Jam

View Recipe

Grilled Turkey Burgers with Toppings

Grilled Turkey Burgers

Sweet Onion

Goat Cheese

Sourdough Bread

Reinvent the turkey burger tonight! Try adding the tart and fruity zing of Smucker's® Pure Blackberry Jam and the salty deliciousness of crumbled goat cheese. Spread the jam and add caramelized onions. Sprinkle the cheese on top. Serve on a sourdough bun.

View Pairing

Chicken and Waffle Grilled Cheese

Fried Chicken Strips

Swiss Cheese

Waffles

If you're ready for some big, bold flavours, try our take on Chicken and Waffles. Layer Smucker's Pure Blackberry Jam, nutty Swiss cheese, and fried chicken strips between two waffles and heat 3-4 minutes on each side until the cheese is gooey and the waffle turns golden brown. Top with an extra dollop of blackberry jam.

View Pairing