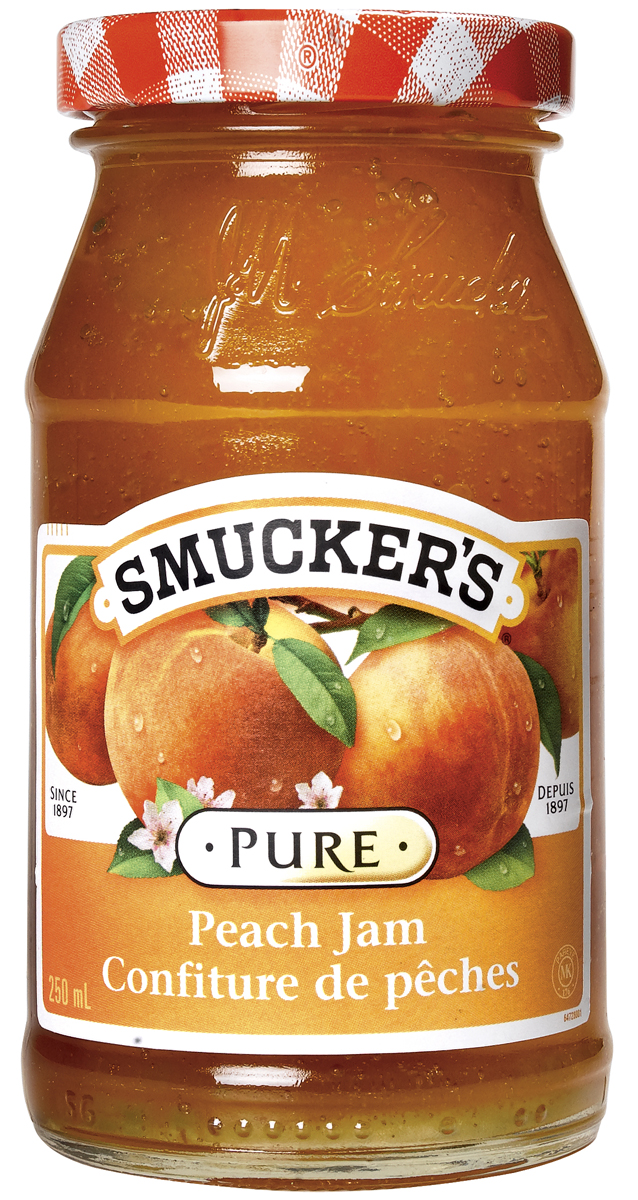 Available Size(s): 250 mL
Smucker's® Pure Peach Jam
13 Rating(s)
You'll crave our rich, savoury Peach Jam for its complex flavour. Made with large pieces of sun-ripened peaches, its thick lushness pairs perfectly with creamy goat cheeses and roast meats. Or, for a simple breakfast, slather on an English muffin.
Nutrition Facts
Amount Per Serving
Calories 50
Fat 0 g
Carbohydrate 14 g
Sugars 11 g
Protein 0.1 g
INGREDIENTS
PEACHES (ASCORBIC ACID), SUGAR, GLUCOSE, CITRIC ACID, PECTIN
Product formulation and packaging may change. For the most current information regarding a particular product, please refer to the product package.
Spicy-Sweet Tortilla Spirals

1 Rating(s):

Chilling Time 1 hour or overnight

Ingredients

1 package (250 g) cream cheese, softened
1 red pepper, seeded and chopped
2 green onions, chopped
1/3 cup (75 mL) Smucker's® Pure Peach Jam
1 tsp (5 mL) grated orange rind
1/2 tsp (2 mL) cayenne pepper
5 large flour tortillas
2/3 cup (150 mL) chopped toasted pecans

View Recipe

Peach and Pecan Squares

2 Rating(s):

Cook Time: 40 to 45 minutes

Ingredients

Base:
1 cup (250 mL) Robin Hood® Original All Purpose Flour
1/2 cup (125 mL) sugar
1/2 cup (125 mL) chilled butter, cubed
Filling & Topping:
3/4 cup (175 mL) Smucker's® Pure Peach Jam (or any variety)
2 egg whites
3 tbsp (45 mL) sugar
2 cups (500 mL) chopped toasted pecans

View Recipe

Pear

Diced Celery

Slivered Almonds

Sugar-Free Vanilla Yogurt

Creamy, crunchy, sweet, and tangy - this fruit salad mixes flavors and textures to make for a satisfying side dish. Simply combine the rich, sweet pear, yogurt, and Smucker's® Pure Peach Jam with the slivered almonds and celery for an extra crunch.

View Pairing