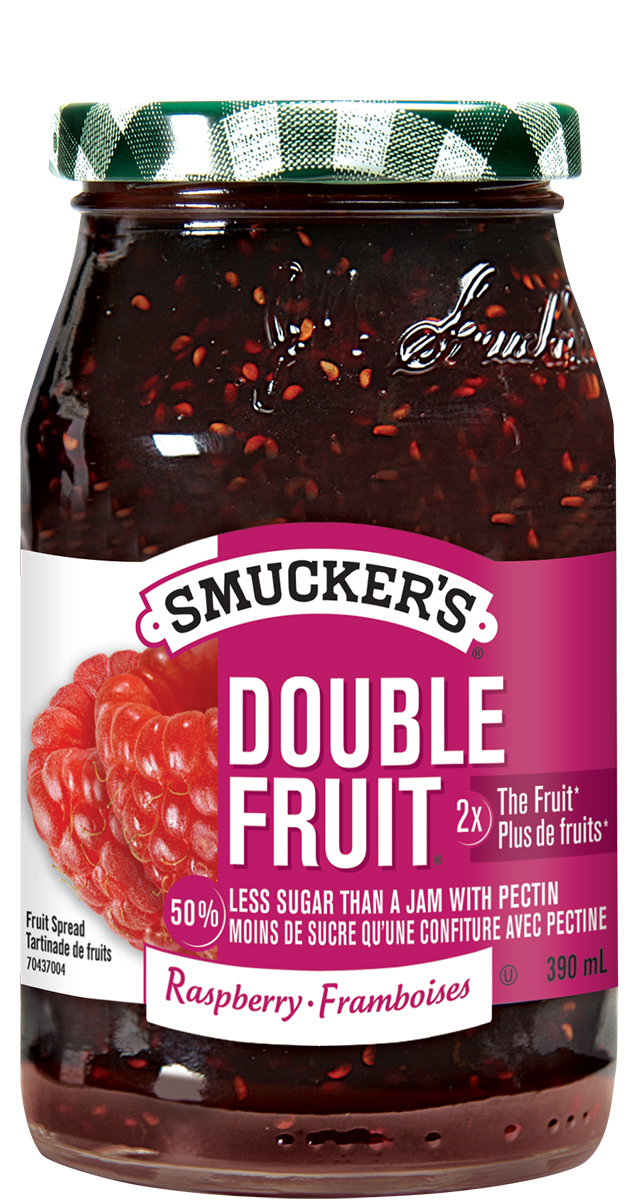 Available Size(s): 390 mL
Smucker's® Double Fruit® Raspberry Fruit Spread
93 Rating(s)
Packed with twice the fruit and 50% less sugar and calories than a jam with pectin, Smucker's® Double Fruit® Raspberry Fruit Spread gives you the delicious taste you love. Made with pieces of real raspberries.
Nutrition Facts
Amount Per Serving
Calories 30
Fat 0 g
Carbohydrate 7 g
Fibre 1 g
Sugars 6 g
Protein 0.1 g
Vitamin C 4
INGREDIENTS
RASPBERRIES, SUGAR, WATER, PECTIN, GUAR GUM, CITRIC ACID, POTASSIUM SORBATE, COLOUR.
Product formulation and packaging may change. For the most current information regarding a particular product, please refer to the product package.
Instant Raspberry Cheesecake

Graham Crackers

Low-Fat Cream Cheese

Sliced Almonds

Make an indulgence in minutes. Simply spread cream cheese on a graham cracker, top with Smucker's® Double Fruit Raspberry Fruit Spread, and add a few slivered almonds. One bite and you'll taste the raspberry's tartness mingling with the rich cream cheese. Enjoy.

View Pairing
STORES NEAR YOU
Visit any of these great locations to find all of your Smuckers's favourites.
The trademarks and logos displayed are trademarks of their respective owners.  All rights reserved.