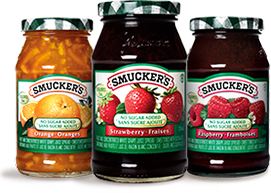 SENSIBLY SWEET. UNBELIEVABLY GOOD. You'll be surprised by how easy it is to enjoy the great taste of Smucker's®, without all the sugar. Our No Sugar Added and reduced sugar products are perfect for any occasion.
Filter No Sugar Added By:
These products have the delicious fruit taste you love without the added sugar*. So go ahead. Enjoy the quality and great taste you expect from Smucker's and feel good about what you eat.
*Contains sucralose and concentrated white grape juice
Sorry! There are currently no matches for this search.