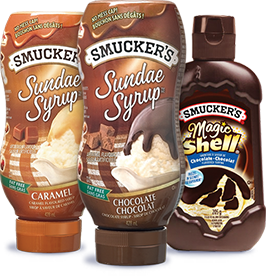 FIND A NEW WAY TO SCOOP UP FUN At Smucker's®, we think the very best days are sundaes. That's why we've created a wide variety of ice cream toppings to add delight — and a creative touch — to dessert time.
Filter Ice Cream Toppings By:
Every day can be sundae with Smucker's Sundae Syrup Flavoured Syrups. These thick, rich, pourable toppings are the perfect partner for your favourite ice cream or dessert. Choose from one of our delicious flavours, or mix and match for more flavour and fun.
Craving a sundae? Simply heat up one of our microwaveable ice cream toppings to create a tasty treat that's ready in minutes.
Just spoon on your favourite flavours to create an ice cream sundae treat that will have you coming back for more.
Pour on the fun with Smucker's Magic Shell Topping. This topping freezes in seconds on your ice cream to create a candy-coated shell that can be broken and mixed right in with the ice cream. It's a topping that's fun to make ... and fun to break!
Sorry! There are currently no matches for this search.