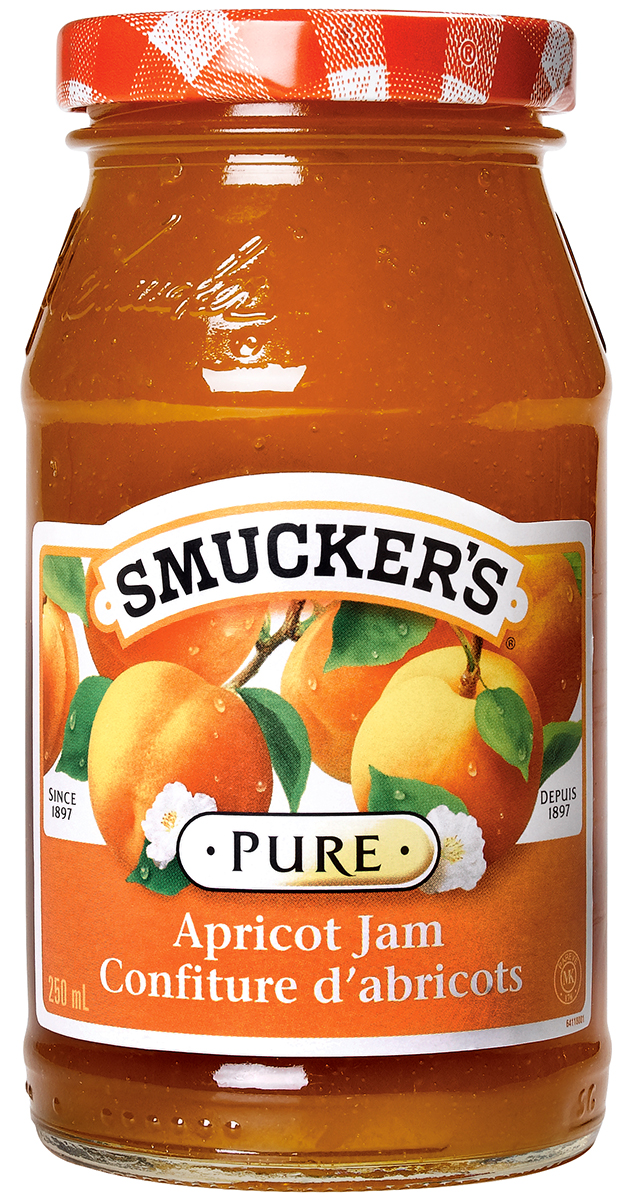 Available Size(s): 250 mL, 500 mL, 1L
Smucker's® Pure Apricot Jam
46 Rating(s)
With a unique nectarous flavour — and a zing of tartness — our Apricot Jam cuts to the head of the line for many fruit connoisseurs. Try this golden, fruity jam on toast, fold into a crepe or spoon on roast pork and chicken.
Nutrition Facts
Amount Per Serving
Calories 50
Fat 0 g
Sodium 1 mg
Carbohydrate 13 g
Sugars 11 g
Protein 0.1 g
INGREDIENTS
APRICOTS (ASCORBIC ACID), SUGAR, GLUCOSE, CITRIC ACID, PECTIN
Product formulation and packaging may change. For the most current information regarding a particular product, please refer to the product package.
Orchard Fruit Tart

0 Rating(s):

Freezing: not recommended

Ingredients

Pat In No Fail Pie Crust
2 cups (500 mL) Robin Hood® Original All Purpose Flour
3 tbsp (45 mL) sugar
3/4 tsp (4 mL) salt
1 cup (250 mL) All Vegetable Shortening
1 egg
2 tbsp (30 mL) cold water
1 tbsp (15 mL) white vinegar
Filling
1/4 cup (50 mL) Smucker's® Pure Apricot Jam, slightly warm for easy spreading
1/2 cup (125 mL) finely chopped almonds, walnuts or hazelnuts
6 (1 1/2 lb/684 g) large plums pitted and quartered (do not peel)
1/4 cup (50 mL) sugar
Topping
1/4 cup (50 mL) Smucker's® Pure Apricot Jam, slightly warm for easy spreading

View Recipe

Apricot Almond Oatmeal

1 Rating(s):

Ingredients

1 cup (250 mL) cooked Robin Hood® Large Flake Oats
1/4 cup (50 mL) cottage cheese
1/4 cup (50 mL) Smucker's® Pure Apricot Jam
2 tbsp (30 mL) fresh blueberries
1 tbsp (15 mL) almonds
Sliced apricots, chopped for garnish, optional

View Recipe

Creamy Apricot Feta Cheese Dip

Feta Cheese

Low-Fat Cream Cheese

Garlic

Dried Oregano

Whip up this rich, sweet, and salty dip when you're hosting a crowd. Smucker's® Pure Apricot and feta cheese pair beautifully - the sweetness and saltiness strike a fine balance when mixed with rich feta cheese. Add garlic and dried oregano for extra flavour. Serve with pita chips.

View Pairing